【Myanmar】Established the local subsidiary
We provide improvement consulting and support your business expansion to Myanmar.
HIRAYAMA HOLDINGS Co., Ltd. established a wholly owned subsidiary in Myanmar following Vietnam, Thailand, and China on January 17, 2020 in order to support the overseas expansion of customers that are expanding or are considering to expand business into Asia.
We support customers' overseas expansion in various ways, such as shop floor improvement consulting for a manufacturing industry, marketing research in collaboration with law firms and accounting firms, and supporting the procedures for establishing a local corporation.
Examples of the specific support menu
| | |
| --- | --- |
| Shop floor improvement consulting | We provide shop floor improvement consulting based on the local needs of various industries, not limited to a manufacturing industry. |
| Marketing research | We research and provide local information based on customer needs. |
| Support establishment of a local corporation | We support customers by acting on behalf of various procedures for expanding the business to overseas. |
| Human resource introduction | We introduce a wide range of human resources from management to workers. |
Furthermore, from April of the same year, we will expand the local education business.

The HIRAYAMA Global Supporter of the Hirayama Group, providing employment support services for foreigners, has been offering Japanese language education courses with the Mandalay Technological University in Myanmar since February 2018. In January 2020, at the same time the local subsidiary in Myanmar was established, they concluded an MOU on technical education business with the university. They will hire teachers, make capital investments, and expand the education business from April.

The new 5th and 6th grade students will aim to acquire basic skills of 3D CAD (computer drawing and design) and AI.
Implementation scheme of technical education business with Mandalay Technological University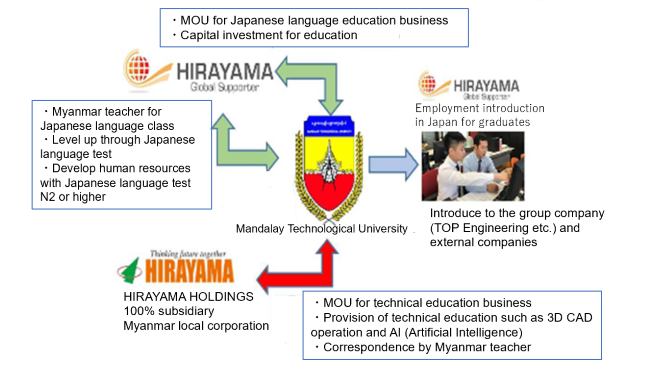 Hirayama Myanmar Co.,Ltd
・Company Name : Hirayama Myanmar Co., Ltd
・Representative : Kazuaki Nomiyama, Managing Director
・Location : L anmadaw Street,,No.170/174, 7 Floor, Latha Township, Yangon,,Myanmar
・Founded : January, 2020
・Capital : 100,000 USD