International Virtual Conference
International Virtual Conference: Leading innovation and digital transformation in an Era of Uncertainty
Kaizen UAE (Hirayama Consulting partner) is hosting this fantastic event.
Kaizen training-UAE glad to invite you to participate with us in our International Virtual Conference for leadership practices entitled "Leading innovation and digital transformation in an Era of Uncertainty" This initiative comes from the believes of our leaders in The UAE to share and learn from the best practices.
Date
: 25th to 27th May 2021
Time
: 10:00 AM- 2:00PM (UAE Time)
Diamond Sponsor
: Dubai Electricity & Water Authority
Number of sessions
: 8 sessions
Our speakers
are Leaders and Experts from leading and pioneer Silicon Valley companies such as Google, Amazon, IBM, NAVIDA, Berkeley University, VOX and others.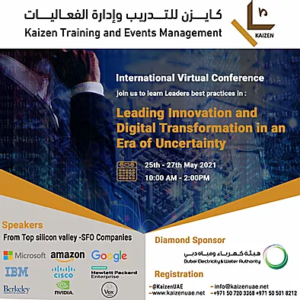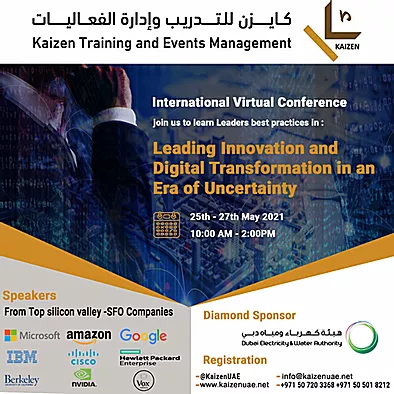 Change has been, and always will, be constant. Now, more than ever, there is a demand for resilient and agile leaders who can effectively adapt to change and drive innovation.
As we all knew the situation of COVID-19 has accelerated years-long digital transformation initiatives for enterprise teams in a span of months.
Program Highlights
How to turn the Crisis into a Growth Opportunity.
How leaders can master disruption through innovation.
What are the practices that successful companies use to fuel THE NEXT GENERATION TECHNOLOGIES and to help themselves grow digitally and stay ahead of the curve of future disruptions.
How leaders can use a data-driven innovative digital transformation framework to evaluate opportunities and develop an evidence-based road map for growth.
learn from real cases and success stories to respond nimbly to change and be better prepared for the next disruption.
It will include
Live sessions with top leading speakers from silicon valley- SFO companies such as Google, Amazon, IBM, NAVIDA, Berkeley University, VOX and others.
Discussion with Experts.
Access on demand to the recorded sessions after conference.
Dedicated Kaizen assistant.
Certificate from kaizen training center.
Contact Us for more information and detailed information:
Contact us