By "visualization" of the working hours, it leads to "Kaizen" and then becomes possible to do "Acquisition of knowledge for work improvement".

"Visualization" of work-analysis is the first step for work improvement.
"Visualization"/h5>
With simple operations on video images, TimePrism provides you with accurate and clear work analysis. While displaying time charts in real time, you can accurately figure out whole flow of work.
It draws out "Kaizen" from the work organization and the comparative verification.
Kaizen
TimePrism's functions for efficient Muda elimination and comparative verification help you to create work standards and standard time, which is fundamental to manufacturing, logistics, service, and all other industries.
"Acquisition of knowledge for work improvemnt" referring the data obtained by "Visualization" and "Kaizen"
IE education
Movement of operators consists of accumulation of skills that can't be expressed with words. TimePrism allows you to learn how to standardize work, level work load, eliminate Muda, and technical know-how as well.
Visualization to be realized by the work analysis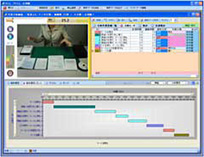 TimePrism, software to support work analysis, allows you easily obtain necessary data to "visualize" work. Work analysis can be carried out with simple operations while video images are being reproduced on PC screen. The operation is very easy. It requires you only mouse clicks while watching video images.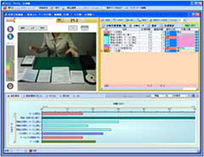 Detail time measurement, e.g. Muda or unnecessary time, is possible during analysis. Time charts (classification, therblig, combination can be displayed with different colors) based on detailed time are displayed in real time per analytical element and in time line. Analytical element sheet and time chart allow you to grasp whole operation conditions at one view, realizing "visualization" of work.
"Kaizen" using the work-analysis data obtained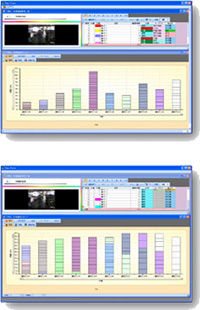 Work load can be leveled easily with TimePrism, utilizing analyzed data. Just drag and drop analyzed data on the leveling page and you will get work process allocation (levelling) done. The image of leveled work can also be reproduced on screen.
Are "Visualization" and "Kaizen" necessary only for the factory?
"Visualization"and "Kaizen" are required not only by manufacturing plants. Every industry is facing urgent need to improve work efficiency. TimePrism can be utilized not only for analysis on shopfloor work but also for industrial engineering in distribution, food processing, or in universities, as well as for work analysis or time study in reserch institutions. Despite that the price is very reasonably set, TimePrism contains full-fledged functions for professional use in industrial engineering. TimePrism is also ideal as introductory tool to learn basic concept of work analysis, e.g. time measurement, application of measured data, etc.
Screen layout is adjustable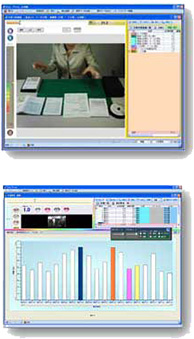 Layout of TimePrism can be changed freely with a mouse drag. Flexibility of layout change allows you to adjust to various situations, such as to reproduce image on a big screen so many people can share, or to display a number of time charts at the same time.
All support after purchasing.
TimePrism series are equipped with user interface, which can be operated in a intuitive manner, and come with a booklet of "Easy Operation Guide,"" so everyone can start using it immediately. TimePrism is provided with update service through our website in order to reflect customer requests and to adjust to PC/OS upgrading. Our specialized staff answers your questions on its use and procedure or to shoot troubles.
Operating Enviroment
Support OS
Windows 7 (32/64bit English Version)
Windows Vista/Vista (32/64bit English Version)
Windows XP SP3(32bit English Version)
※ Windows XP 64bit version action is not guaranteed.
※ Action with other languages differ from the original language is not guaranteed.
Processor
Core2Duo(excluding low voltage version), the equivalent efficiency or above.
Memory
2Gigabyte or above
Screen Resolution
1024×768Pixel or above(Recommend more than 1280×800)
Limitation by Graphics Card
Personal Computer installed Quadro Series Graphics Cards by NVIDIA Corporation is unavailable for use.
Image Formats which are available to reproduce

AVI(MotionJpeg),MPEG1,MPEG2,MPEG4,H.264,WMV,MOV

※Some image formats may limit the speed of the image.
※MOV Formats are available to reproduce once the specified decoder filter is installed.
※Image files which are not available to reproduce need to change the format with specified image editing software.
Others
Use one USB port to connect software protector.
Development, Manufacturers:Nihon Seikoh Giken Co.,Ltd.(https://www.jiet.co.jp/)